Top 5 adventures to Try in Rajasthan
Rajasthan is famous for its vibrant culture, vivid ethnicities, mouth-watering cuisines, enchanting milieus, folk songs, traditional attires and amazing experiences. But there is a lot more than this in Rajasthan to offer like the various adventure activities that promise the ultimate adrenaline rush. Below are some of the popular adventures you can experience when holidaying in this beautiful state.
Desert & Camel Safari – Desert & Camel Safaris are quintessential activities in Rajasthan that you can experience nowhere else in India. During such safaris, one can catch a glimpse of the villages well-known for their rustic charm. Other remarkable experiences include traversing through sand dunes and interacting with the locals from atop the camels. Visitors can even enjoy the scrumptious fares and traditional tribal music during different stops on the tour which is genuinely a tremendous thing happening to a traveller.
Paragliding – When in Rajasthan, paragliding should definitely feature in your itinerary, regardless of whether you're a casual vacationer or an adventure enthusiast. Managed by professionals, the sport takes you high in the sky and offers you a blood-pumping experience with a birds-eye view of the regal land.
Hot Air Balloon Rides – To enjoy the breathtaking panorama of Rajasthan at your own pace, there can be no better option than a hot air balloon ride. Soar above the land, absorb the sounds of the lively cities and gain an amazing perspective of the rich architecture of the state. The view of the magnificent forts, opulent palaces, buzzing markets and the golden sand dunes from above is a sight to behold.
Camping – Camping under the clear night skies of Rajasthan is an experience like no other. A well-developed activity of the state, such camping expeditions are known for their luxurious amenities. With this unique opportunity, you not only get to gaze at the stars amidst the undulating sand dunes but also enjoy a comfortable outdoor stay with facilities befitting royalty.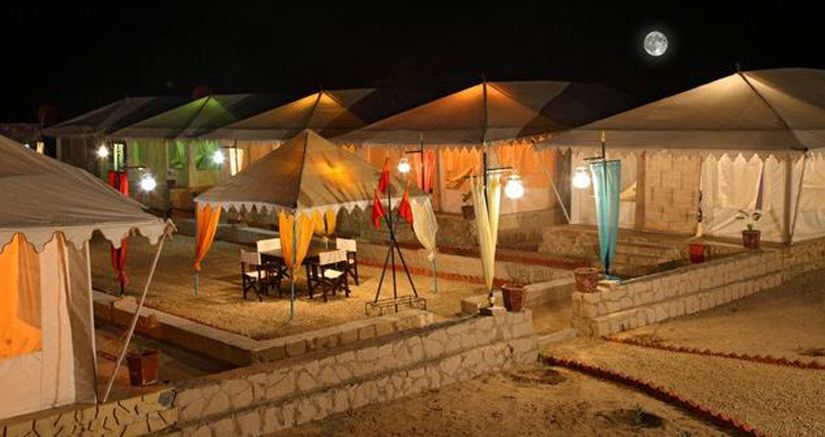 Wildlife Safari – The forests and national parks of the state are home to many fascinating birds and animals. With the safari tours, wildlife enthusiasts get a chance to connect with nature and witness these species in all their glory. Rajasthan's fauna includes tigers, deer, desert foxes, wild boars, leopards as well as many migratory birds that can be exclusively sighted only in this land. If looking for an experience that blends thrill with comfort and a touch of royalty, look no further than Rajasthan. Equipped with all the protective measures, including the use of masks and gloves by staff and regular sanitization, the adventure activities promise a safe and unforgettable experience. So, for your next shot of adrenaline, plan a trip to Rajasthan and create memories for a lifetime.